Jiu-Jitsu
Do You Want to get your workout in, and have fun doing it?
If you are like me the thought of 60 mins on a treadmill makes you start thinking of excuses... But, as every infomercial from the 90's said, there has to be a better way.
That way is Jiu-Jitsu.
Jiu-jistu was popularized as the grappling aspect of MMA fighting through events such as the UFC. It is safe, highly addictive and a crazy workout. In addition to that the depth of the sport is incredible, you can keep learning new things for a lifetime so it never gets old.
At Innovative Martial Arts we specialize in "No-gi" Jiu-jitsu, as in without the uniforms. It is more casual, a slightly faster pace, closer to what you see on tv, and far easier on the fingers without always trying to hold on to material. That said, we do still throw on jackets once and a while to change things up.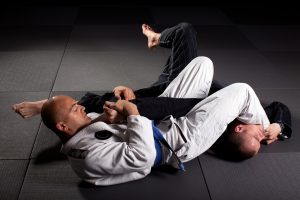 Jiu-Jitsu has become the #1 choice for adult martial arts because of it's high level of effectiveness as a self-defence method, the amazing workout it provides, and the massive amount of depth to it that keeps you coming back to learn more.
Jiu-Jitsu is quickly becoming a popular recreational and competitive sport amongst adults from all walks of life looking for a fun and challenging activity to keep them in great shape and learning. Jiu-Jitsu has a depth of knowledge few other sports can match, and unlike other sports where most participants started as young children we have men and women that have started in their 20's, 30's, 40's, 50's and older!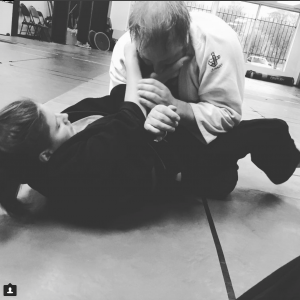 Jiu-Jitsu is an approach to exercise, combined with self-defense that works like nothing else you've ever tried before. It is the fastest growing sport in the world right now, and there is a reason for it.
Our Brazilian Jiu-Jitsu Program will drastically reduce your stress levels and so much more. You will discover that our Martial Arts Program is dynamic, safe and easy to learn! It will sky rocket your levels of energy so you are more productive during the rest of your day!
Our Brazilian Jiu-Jitsu training program is designed to accommodate you!
We have workouts tailored to increase your flexibility, coordination, balance, reflexes and strength. You'll get in the best shape of your life. The benefits of training in BJJ are simply amazing.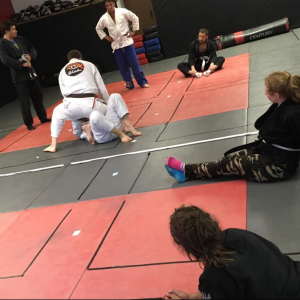 Kickboxing
Unleash your potential with the Kickboxing Program at Innovative Martial Arts. Kickboxing is more than just a thrilling martial art; it's a powerful and transformative fitness tool that combines strength, agility, coordination, and cardiovascular fitness.
Here's why our Kickboxing Program stands out:
Total Body Workout: Kickboxing engages every muscle group in your body, offering a full-body workout like no other. From core strength to leg power, you'll develop muscle tone, enhance flexibility, and burn calories.
Self-Defense Skills: While focusing on fitness, you'll also acquire practical self-defense techniques. Kickboxing teaches you how to move, strike, and defend in a way that's both effective and empowering.
Stress Relief: There's nothing quite like the catharsis of hitting a heavy bag to melt away stress. The physical exertion of kickboxing releases endorphins, boosting your mood and mental well-being.
Cardiovascular Health: Fast-paced and energetic, kickboxing is a heart-pumping activity that improves cardiovascular endurance and overall heart health.
Community and Fun: Join a community of like-minded enthusiasts in a fun and supportive environment. Our expert instructors provide guidance tailored to all levels, ensuring an engaging and enjoyable experience.
Complementary to Other Programs: Interested in a well-rounded fitness routine? Pair kickboxing with our Yoga Program or our Jiu-Jitsu program!
Whether you're new to martial arts or looking to take your fitness to the next level, our Kickboxing Program offers something for everyone. The practicality of learning valuable self-defense skills while achieving your fitness goals creates an enticing and rewarding package.
At Innovative Martial Arts, we prioritize safety, quality instruction, and individual growth. We provide state-of-the-art equipment and facilities, ensuring that your kickboxing journey is nothing short of excellent.
Get ready to kickstart a life-changing experience that empowers you both physically and mentally. Join our Kickboxing Program today and step into a world where fitness meets practicality, energy meets grace, and strength meets empowerment.