What is The Greatest Gift You Can Give To Your Child?
Confidence.
Because a Confident Child is Unstoppable.
At Innovative Martial Arts we believe that the most important things a child can have are confidence and self-control. We believe that a confident child is far less likely to be the subject of, or instegartor of one of the biggest issues in school to day.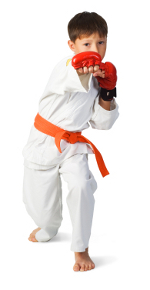 For more information on Bullying and how the confidence gained through Martial Arts Training can help see this article.
Our kids classes are designed to be fun, while at the same time providing effective training. Our philosophy is to teach through play. It is one of the most natural and effective methods of training, and it\'s fun!
Our kids program teaches sportsmanship through training together, working together, and never allowing it to become too serious.
When a sport becomes too serious, the idea of winning takes priority over the ideas of fair play and respect. This is something we never want to happen in our classes. We use many games as drills, and sparring is essentially a game. The important thing is for the game to work the rules need to be followed, and therefore competitors need to respect and look after each other.
Self-control and discipline is learnt while working against each other. Students have to remain calm while being pinned, thrown and even hit (with appropriate safety equipment.) Through working with other students, some of whom are much larger and some that are much smaller, students learn to play and succeed while respecting and keeping each other safe.
At Innovative Martial Arts we produce kids that:
Act independently
Assume responsibility
Take pride in his or her accomplishments
Have high self-esteem.
Temper frustration with self-control
Attempt new tasks and challenges
Help others by positively contributing to the team
Help your child reap the rewords of Mixed Martial Arts training today!
How do I get my Child Started?
With children in this age group we require that they come in for a free orientation session with an instructor. Sometimes children of this age can be shy and unsure of how to behave in a new environment. We want to give them a opportunity to explore the gym, meet their instructor and learn how to behave in that environment before adding the extra noise and excitement of a full class.
We want to make sure that our classes are a good fit for your child, and we want to make sure that you are 100% happy with what we have to offer. In order to make it easy for you to get started we would like to offer you a FREE private introductory session for you and your child. No commitment, no requirement to join afterwards. We want to ensure that all your questions get answered and our program is a good fit for your needs.
To sign up simply call us at 204-505-2787 or, click on the button bellow to register online.