What is the most valuable gift you can give a child?
Confidence. Because a confident child is unstoppable.
What a child grows up with defines the rest of their life. A child that grows up without confidence, discipline or the ability to stick to and achieve goals will have a very hard time overcoming those things later in life. They may enter as students, but they will leave as leaders.
Martial Arts training is the single best activity to teach those traits. It gets recommended time after time by teachers, counsellors and child psychiatrists.
Age Groups

At Innovative Martial Arts we believe kids should be grouped and train with other kids their own age. That is why we have 5 seperate age groups for our kids program.

Tough & Tiny – 3-4 year olds
Fit & Fearless – 5-7 year olds
Youth I – 8-10 year olds
Youth II – 11-13 year olds
Youth II – 14-17 year olds
What is Jiu-Jitsu?

Confidence – Your child will learn to stand straight, not be afraid to look peo
ple in the eye and have the confidence to not be a victim of bullies. They will learn to take risks and be confident in themselves. Our program is designed to build confidence from day one, and you will see the results of this, guaranteed.

Discipline – Your child will learn about discipline. Discipline is not just about obedience though, doing what you are told is great. But real discipline is in doing it without being told. In life there are leaders and followers, our goal is to build leaders. And leaders are the ones that take action and get the job done without needing to be supervised.

Goal Setting – Goal setting is the key to success in life. We live in a culture where we want things instantly. Anything worth earning takes time and effort. Your child will learn to set long term goals, such as earning their black belt, and to put in the work to reach those goals and have something they can be proud of.

Leadership – Leadership training is what separates those that make a difference from those that watch others do so. Within the martial arts your child will learn what it means to be a leader. As they gain experience they will be taught how to mentor and assist others, how to lead a group through a warm up or a drill and as they gain experience how to motivate and teach.
By mixing an age appropriate, modern martial arts curriculum with research based character development we will help your child become an amazing athlete who will succeed not only on the mat, but in life.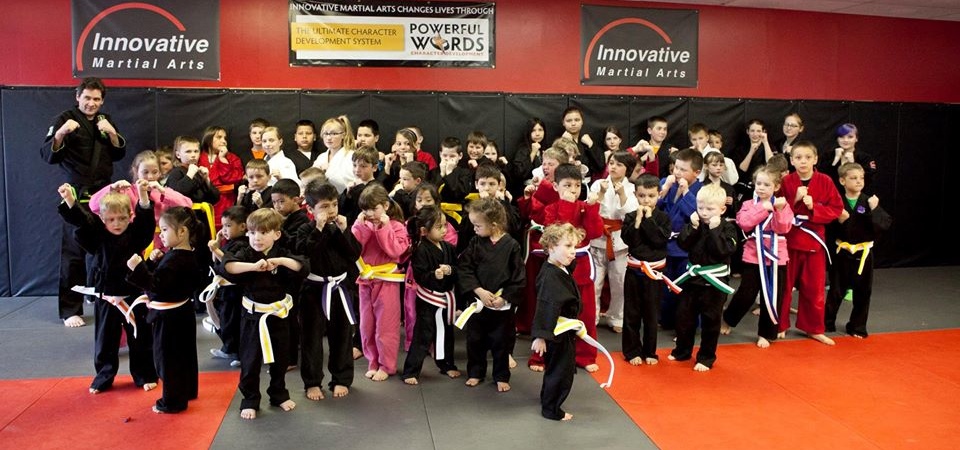 At Innovative Martial Arts we produce kids that:
Act independently.
Assume responsibility.
Take pride in their accomplishments.
Have high self-esteem.
Temper frustration with self-control.
Attempt new tasks and challenges.
Help others by positively contributing to the team.
As a Mixed Martial Arts school your child will learn a mixture of striking, grappling, wrestling and at times basic weapons. They will get in great shape using cutting edge fitness and conditioning exercises. Our program is the only one of it's kind in Winnipeg and we strive to stay on the leading edge! "Thank you for such great classes each week. Her confidence and gross motor skills have just flourished since joining your group.  Awesome team of teachers!" – Michael
Merit Badges

At our academy, we strive to be much more than just a kick-and-punch school! We are always looking for ways to enhance your children's learning experience here at Innovative Martial Arts. You deserve a full curriculum that helps to develop your children socially and cognitively as well as physically.

Here at Innovative Martial Arts, the character education program used within the context of our organized martial arts lessons invite students to listen, share, discover and reflect on ways to become upstanding members of our community as well as confident individuals in their own right.

As a part of the promotion requirements each member will be required to complete 3 projects per 3 month testing cycle in order to advance.

As we try to be more then just a martial arts school, we recognize that certain character traits lead to excellence not just in martial arts, but in all aspects of life.

For that reason we provide recognition to students who display these traits in the form of "Merit Badges" which can be sewn onto the students uniforms. Some of the merit badges currently available are:

Discipline, Focus, Teamwork, Leadership, 100% Effort, Commitment and Respect

These badges are earned in conjunction with our monthly themes by those demonstrating those traits to a high level.
Confidence: A Cure for Bullying

First published in the Fall / Winter edition of Family-TLC Magazine Unfortunately back-to-school means back-to-bullying for far more children than any of us like to admit. Bullying is a very real problem but, fortunately there is a solution. Bullies target those that are easiest to bully, and the easiest target is the child lacks confidence and is least likely to stand up for themselves. Unfortunately this is a hard thing to do for most kids, or even adults for that matter. So the key is confidence; a person that is confident is far less likely to be targeted by a bully. A child that can verbally, and if necessary, physically stand up for themselves is going to be more trouble for a bully who is looking to boast their own confidence at the expense of others.

So how do you help your child become bully proof?

Praise everything. Children hear far more negative statements then positive. "Don't do this", "Don't touch that", "keep quiet", etc. The general rule coaches learn is 3 positive statements for every negative one. This is a good rule to carry out of the gym or off the field as well. If your child is constantly being told they are good, and doing amazing they will become what they are told and gain the confidence of it. To strengthen this effect, surround your child with other people and put them in activities where they will hear those same things from other sources. The more different places they are hearing positive statements the stronger the effect.However the goal is not to simply praise for the sake of praising, it needs to be specific towards what you are trying to encourage. Praise effort, attentiveness, focus and other traits you want to develop.

Teach them "Verbal Judo". Must bullying can be stopped through words, saying the right thing at the right time. Calling the bully on his statements and actions, making them hold responsibility for their actions. Simply having the confidence to ask the bully to stop, or asking them why they are doing what they are doing.Speaking confidently and saying the right thing can make all the difference, both with bullies and in life.

Teach them to help others. Little things add up, and realizing that they have the ability to help others is a big part of being a confident person. Teach them to open doors, help with the yard work, and volunteer in the community with you. Lead by example and remember to thank them for what they do, even if it is small.Another great way to do this is have them working with younger kids in some regard. The act of "teaching" others not only improves their knowledge of what they are teaching, but also builds their confidence in themselves.

Give them the physical skills. With bullies the ultimate threat is being beat up. Bullies use the threat of violence as a way to keep power over others. If that threat doesn't frighten your child because they understand how to defend themselves. If they know, without question, through direct and repeated experience, that they are capable of protecting themselves. That they can control a bigger, stronger and older opponent because they do so every week against bigger, stronger and older (but less experienced) kids in a martial arts class, they will have the confidence in how they respond verbally because that fear won't be there.

Martial Arts is only part of the answer though. It can teach them to be physically stronger and confident in their ability to defend themselves. It can teach them to stand in front of a class and perform. But the real secret lies in the way the child is taught, not just in a martial arts gym, but everywhere they interact with leaders. It's also never too early to start, don't wait until your child is a victim to teach them how not to be one. A confident child is not only bully proof, but primed for being unstoppable in whatever they do. Andrew Green is head coach at Innovative Martial Arts and can be reached at 204-505-2787, or through http://innovativema.ca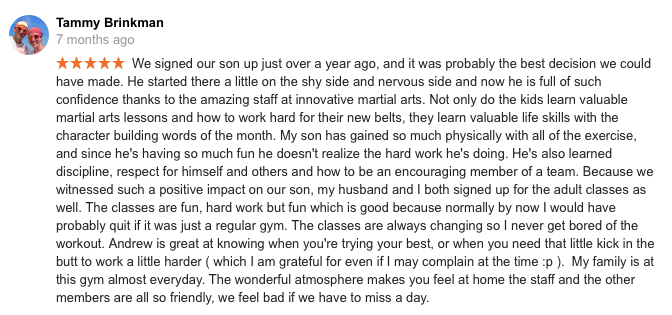 Parents, Do You Want to Jump-Start Your Childs Attention, Focus and Gross-Motor Skills?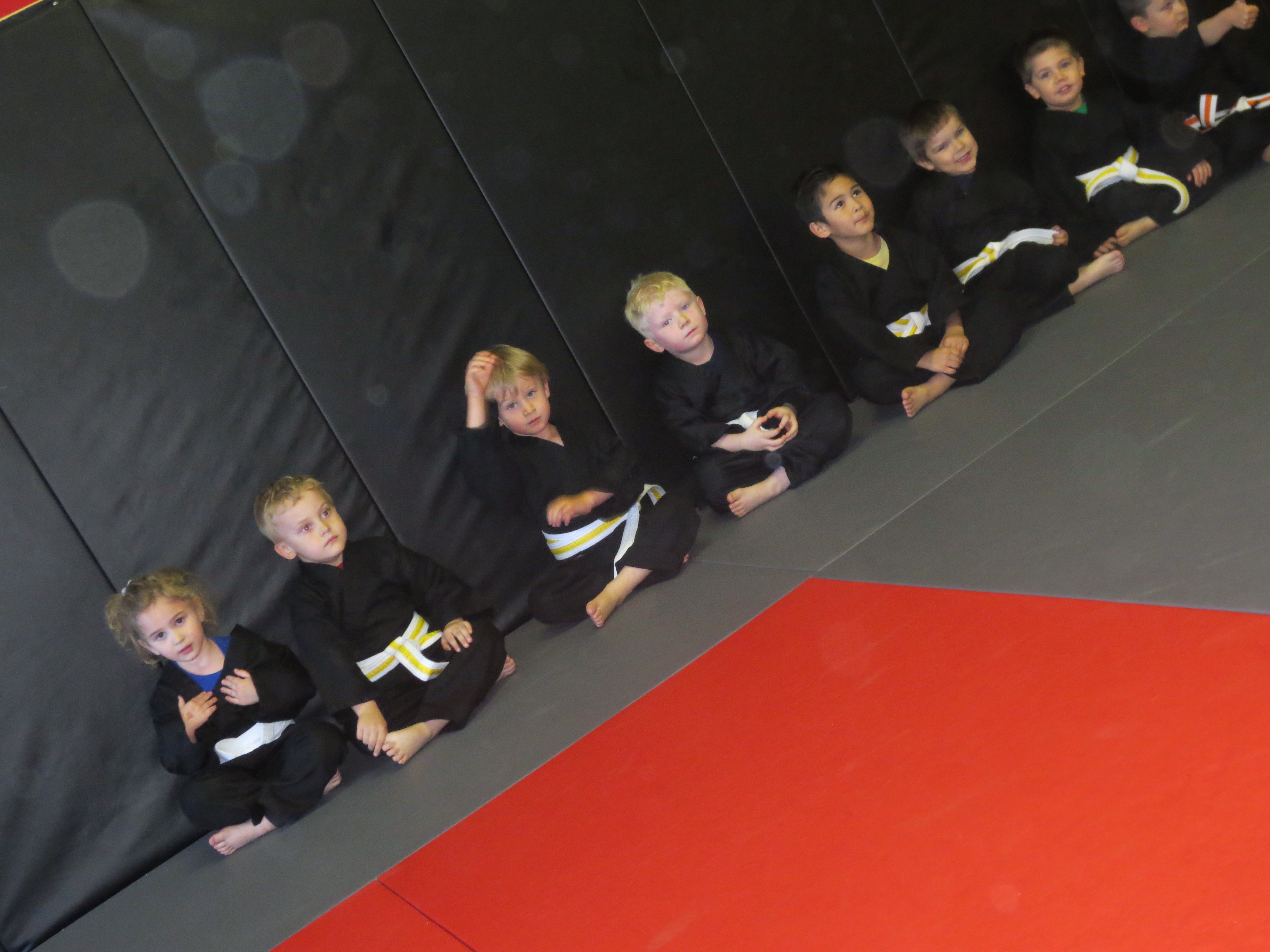 At Innovative Martial Arts we believe that it is never too late, nor too early to start training. Children that train in martial arts from a young age gain a head start in life. Young children are making new discoveries everyday and learning how to cope with all of the challenges of everyday life. Their intellect, emotions, physical capabilities, and social competence all are growing at a rapid rate. Unfortunately, there are few programs and options available for children during this important period, and the potential for helping jump start their confidence, focus and gross-motor abilities often goes unrealized. Our program was designed for the important development of children as young as 3 years olds. We've collected scientific and psychological resources regarding this age group, and used that information to ensure that our program meets each child's characteristics and capabilities. Your child will experience training that targets the skills that they are currently developing; skills such as large and gross motor skills, behavior development, and character development. These skills have been broken down into exercises, games, activities, and drills that compliment their stage of development. We use the martial arts approach to building their skills through these drills. The approach includes reinforcing good discipline, displaying confidence, and maintaining a positive attitude. Technical martial art training is limited to a select set of techniques that develop their balance, body awareness and co-ordination. "I can already see my son becoming more comfortable meeting new people, becoming less shy, he doesn't cling to us as much as he would before coming to Innovative Martial Arts. He's becoming more patient when he doesn't "get" something right away, where as before he would get frustrated and want to quit. Plus there's the benefits of all the physical activity." — Tammy
Leadership: The Key To Success

Within the martial arts is a built in leadership training program. The belt system gives structure to kids classes and establishes goal setting as a learned skill. More importantly, it helps foster a mentoring relationship. Your child will very early on be called in front of a group to count off repetitions or aid in demonstrating a technique. They will learn to stand tall and confident in front of there peers in a progressive system geared towards making them into a strong and effective leader. As they advance in skill and leadership ability they will be taught how to mentor and coach others, how to take charge and how to have a lasting and positive effect on others.
How do I get my Child Started?
In order to make it easy for you to get started we would like to offer you a introductory package. Simply click on the link bellow to get started.