Kid's Jiu-Jitsu
What is the most valuable gift you can give a child?
Confidence. Because a confident child is unstoppable.
What a child grows up with defines the rest of their life. A child that grows up without confidence, discipline or the ability to stick to and achieve goals will have a very hard time overcoming those things later in life. They may enter as students, but they will leave as leaders.
Martial Arts training is the single best activity to teach those traits. It gets recommended time after time by teachers, counsellors and child psychiatrists.
Age Groups

At Innovative Martial Arts we believe kids should be grouped and train with other kids their own age. That is why we have 5 seperate age groups for our kids program.

3-4 year olds
5-7 year olds
8-10 year olds
11-13 year olds
14-17 year olds
What is Jiu-Jitsu?
"Jiu-Jitsu" translates to "Gentle Art", and it gets this name because it is a art of control. The goal in Jiu-Jitsu is to control your opponent and put them in a position where they are forced to give up, as oppose to cripple them with striking techniques.
Jiu-Jitsu teaches kids to think strategically, not aggressively in order to use their entire body to physically control their opponent without causing injury and protect themselves from being in a position where they could be injured.
They will learn to control their opponent on their feet and on the ground, they will learn takedowns, escapes, submission holds and more.
Jiu-Jitsu can be trained recreationally, or as a competitive sport.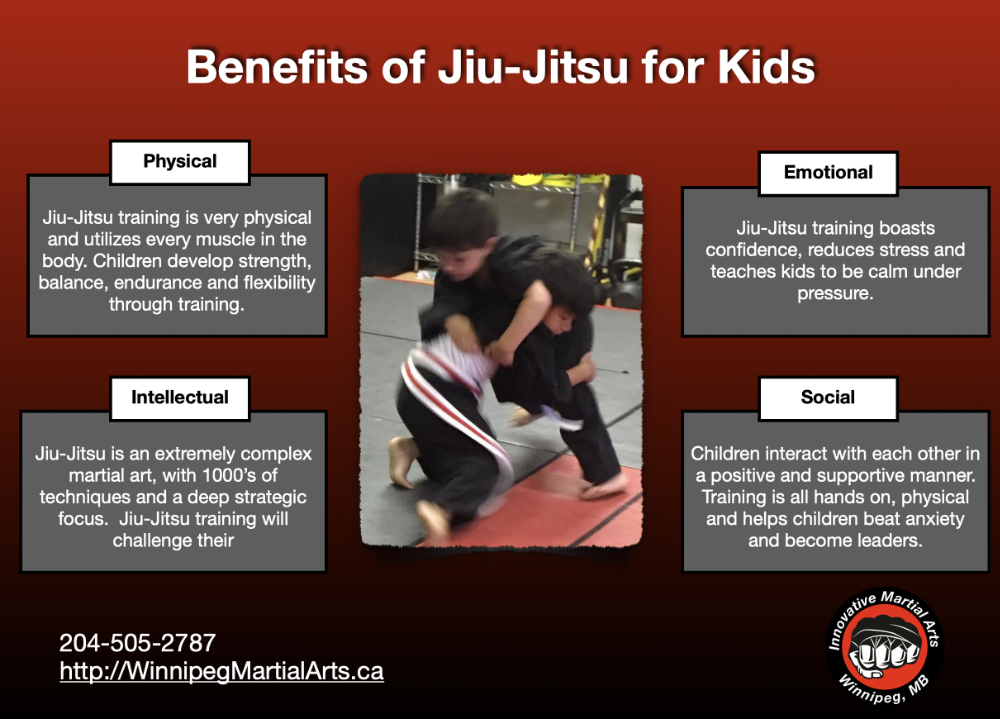 At Innovative Martial Arts we believe that it is never too late, nor too early to start training.
Children that train in martial arts from a young age gain a head start in life. Young children are making new discoveries everyday and learning how to cope with all of the challenges of everyday life. Their intellect, emotions, physical capabilities, and social competence all are growing at a rapid rate.
Unfortunately, there are few programs and options available for children during this important period, and the potential for helping jump start their confidence, focus and gross-motor abilities often goes unrealized. Our program was designed for the important development of children as young as 3 years olds.
We've collected scientific and psychological resources regarding this age group, and used that information to ensure that our program meets each child's characteristics and capabilities. Your child will experience training that targets the skills that they are currently developing; skills such as large and gross motor skills, behavior development, and character development.
These skills have been broken down into exercises, games, activities, and drills that compliment their stage of development. We use the martial arts approach to building their skills through these drills. The approach includes reinforcing good discipline, displaying confidence, and maintaining a positive attitude. Technical martial art training is limited to a select set of techniques that develop their balance, body awareness and co-ordination.
Your child will learn:

Confidence – Your child will learn to stand straight, not be afraid to look people in the eye and have the confidence to not be a victim of bullies. They will learn to take risks and be confident in themselves. Our program is designed to build confidence from day one, and you will see the results of this, guaranteed.

Discipline – Your child will learn about discipline. Discipline is not just about obedience though, doing what you are told is great. But real discipline is in doing it without being told. In life there are leaders and followers, our goal is to build leaders. And leaders are the ones that take action and get the job done without needing to be supervised.

Goal Setting – Goal setting is the key to success in life. We live in a culture where we want things instantly. Anything worth earning takes time and effort. Your child will learn to set long term goals, such as earning their black belt, and to put in the work to reach those goals and have something they can be proud of.

Leadership – Leadership training is what separates those that make a difference from those that watch others do so. Within the martial arts your child will learn what it means to be a leader. As they gain experience they will be taught how to mentor and assist others, how to lead a group through a warm up or a drill and as they gain experience how to motivate and teach.
By mixing an age appropriate, modern martial arts curriculum with research based character development we will help your child become an amazing athlete who will succeed not only on the mat, but in life.
The whole world has been through a 2 year struggle with pandemic restrictions, and it has taken a toll on everyone, especially our kids. We disconnected and isolated for everyone's safety during the pandemic we now must remember that it came with a price. Disconnection and isolation are major causes of anxiety, depression, addiction based behaviours, eating disorders and more.
Now is the time to build your child back up, to help them gain confidence and connection, and to help them be the best versions of themselves.
Leadership: The Key To Success

Within the martial arts is a built in leadership training program. The belt system gives structure to kids classes and establishes goal setting as a learned skill. More importantly, it helps foster a mentoring relationship. Your child will very early on be called in front of a group to count off repetitions or aid in demonstrating a technique. They will learn to stand tall and confident in front of there peers in a progressive system geared towards making them into a strong and effective leader. As they advance in skill and leadership ability they will be taught how to mentor and coach others, how to take charge and how to have a lasting and positive effect on others.
How do I get my Child Started?
In order to make it easy for you to get started we would like to offer you a free introductory session. Simply fill in the form bellow to get started.
Yes, Please contact me to set up a free consultation!

---

One of our staff will contact you within 1 business day to discuss whether or not our programs are right for your goals!