That's been the theme of things lately… something happened and our birthday parties have gone nuts.  We started doing these a couple years back for students and didn't really make a big deal of it.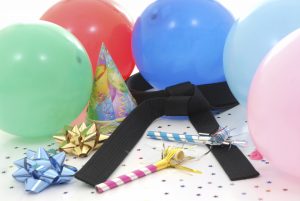 Then suddenly we started getting non-students wanting to do parties here, usually because they had attended one for someone else.
Now a weekend without a party is a rarity, and often there are 2-3 in a weekend…
We've learnt a lot about what makes a great party, and we've delivered a lot of great parties, so here's some things that make a party work.
Ice breakers.  These are important, not everyone is going to know each other.  Some kids are going to be shy and have trouble engaging with the group at first.  Our parties are very physical and we start each one with a big balloon battle as the kids are coming in.  By the time we get started everyone should hopefully be having fun and moving around.
Structure and organization are key, but it shouldn't feel that way to the participants.  Down time is the enemy of anyone in charge of a group of excited kids.  If they have nothing to do, they find something to do and then getting the group back as a group becomes a task.  One thing should go to the next quickly and smoothly with pacing to match.  They can't all be going 100% for a hour straight, they'll burn out. And if anything goes on too long they will lose interest.  From the time they walk in the door to the time they get picked up, there should be something going on.  Little things matter too, for example when we do a piniata it happens before present opening, not after.  Why?  Because while the birthday kid is opening presents they have their loot to keep them occupied.
Something for everyone.  There are some kids that have a hard time with a big group, anxiety or shyness makes engaging with the group hard.  They might need to observe some parts, but some parts should be set up to get them involved.  Our big group games can be intimidating for a few, but often a one-on-one foam sword battle will get them in the ring.
Cool stuff matters.  Part of a great party is making it a special occasion for the birthday child.  Letting them do a little extra, having them battle all of their friends.  Having them cut their cake with a full sized sword.  Having them smash a piniata with a wooden sword (which they get to take home as a souvenir).  Having them demonstrate all the drills and games.  It's their birthday, and their day to feel special and get the photo ops in.
If you want more information on our birthday parties visit this page: http://www.innovativema.ca/school-info/birthday-parties/